If you are looking for ways to make money online and if you can spend 1-2 hours daily then paid online surveys are the best way to earn $200 to $1000 (up to Rs 50000) per month.
There are many best online survey sites where you can signup & earn $1 to $20 for completing each & every online survey.
 How to Get Paid?
First I will let u know about online surveys in brief And then will provide You the 15 Best survey Sites.
What is Online Survey?
MNC's (multinational companies) want to grow their business by increasing the sale of their products. They can do this by knowing the opinion and expectation of the People.
By the help Of survey And the recommendation they design a better product for their customers which will give them good amount of profit and also consumer satisfication.
What do they Ask in the Online Survey?
You will be asked very general questions in these surveys. In some questions, you need to select 'YES' or 'NO' and in some survey, you need to choose one options from 4-5 options.
Basically they ask about your family background, lifestyle and your opinion for different products.
E.g. Samsung company wants to conduct a survey for one of their mobile, say "Samsung Galaxy Note"
Then you may get questions like these-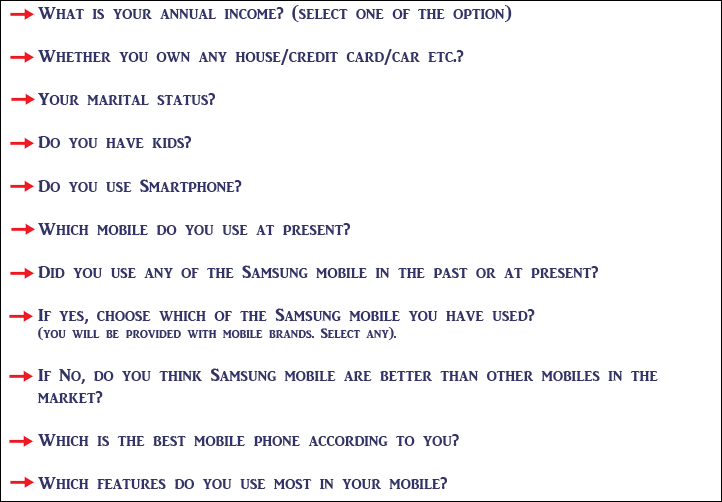 And other similar questions…
So don't you think it's easy to complete a survey?
You will get similar surveys from MNCs or other big companies for different products & services and you can get paid $1 to $20 or even more for spending your time to complete such surveys.
How to Earn Money from Online Survey Jobs?

MNC's hire market research companies (also known as online survey sites) to conduct online surveys for their products & services.
These market research companies have millions of members in their database who are ready to complete surveys for these MNCs.
But completing these surveys takes time so these members get paid from $1 to $20 for completing each survey depending on the length of the survey.
You can become member with such online survey sites, complete surveys on regular basis & make regular monthly income.
How to Join Paid Online Survey Sites?
You can check the list of top 15 survey sites from the list below. Just visit the sites & signup to start earning from online survey jobs.
1. Global Test Market
One of the oldest and best online survey sites available for international members. You can get paid up to $5 for each survey.
Paid more than $32 millions to the worldwide members. Earn MarketPoints for completing surveys and then redeem for rewards or cash from PayPal.
Join GlobalTestMarket Now & win a chance to earn $2000 cash.
2. SwagBucks
Swagbucks is another best company where you will get regular surveys. Apart from Surveys, you can also earn money by shopping online, searching web and watching videos.
You can redeem your points to for gift cards from Amazon or request cash from PayPal. You will also get $5 as signup bonus.
Top 15  Paid Survey Sites